Our Team
Jenifer LaCount
Office Manager
Hi! My name is Jenifer and I am the office manager here at Horizon Dermatology. Currently I am working on my prerequisites for nursing school on the road to obtaining my BSN. When I am not in the office or at school you can find me spending time with my 4 year old son hiking, swimming, and spending as much time outdoors as possible. Feel free to ask me any questions about coolsculpting, the benefits of micro-needling, or what local places have the best drinks, especially if you're curious about whiskey, bourbon, or beer!
---
Nanci Lynn
Office Coordinator
I am Nanci, the Office Coordinator at Horizon Dermatology. You can find me either in the front office greeting patients or in the back working on the inner workings of Horizon Dermatology. If you ever have an insurance or billing question, you will probably be talking to me. I like working together with our patients as a team because it takes a team to get things accomplished.
It is my passion to make people feel comfortable and welcomed. I want people to know that they are important and I try my best to make everyone feel special.
I love working with people and I am very fortunate to work with Dr. Cole and Horizon Dermatology. My resume of life includes some pretty amazing jobs. In 2012, I retired from the Garden Grove Unified School District as a school principal. I was blessed to have such a profession. After earning a Master's in Administration from Pepperdine University, I knew that being a principal was going to be a rewarding and exciting job for me. Prior to that, I taught school in the district and was a GATE teacher for many years. Just after I got married to my dentist husband, we opened his dental office in Cypress. What I learned there helps me with what I do today.
I have two children and two grandchildren. Family is extremely important to me and I hope that shows. Come by and say hi to me!
---
Jamie Condon
Medical Assistant
Hi! I'm Jamie, one of the medical assistants at Horizon Dermatology and Laser Institute. I recently graduated from San Diego State University with a Bachelor of Science in Health Science-Public Health. I am striving to earn my Master's Degree in Public Health in order to work with underprivileged communities around the world. When I am not working, you can find me riding roller coasters at Knott's Berry Farm or soaking up the sun at the beach. If you have any questions about Cool Sculpting or our skincare line IMAGE, I'd be happy to answer them!
---
Sara Kashe
Medical
My name is Sara, and I am the laser nurse here at Horizon Dermatology. When I am not in the office or at school you can find me spending time with my two spoiled dogs Max and Khloe, hanging out with friends at the beach or watching the big sports game on TV. Feel free to ask me any questions about beauty products and cosmetic treatments that we offer here at Horizon Dermatology and Laser Institute!
---
Michelle An
Medical Assistant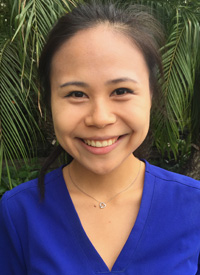 Hello! My name is Michelle An and I am a graduate of UC Berkeley with a major in Public Health. I am currently applying to Medical School and hope to one day open up my own clinic as a family practitioner. You can always find me outdoors running or hiking on the weekends, or taking my dog Romeo out for a walk at night. Feel free to ask me any questions about skin care (I have a 10-step skin care routine that I have nailed down), boba (I can give you the best recommendations!), or my overall experience living in the Bay Area!
---
Natalie Harman
Licensed Medical Esthetician
Natalie Harman grew up in sunny San Diego, the land of perfect climate and waves. She graduated Horizon High School in 2009. Her passion for Esthetics lead her to enroll in Esthetician school in 2015. During her years of experience working in Esthetics, the fast paced environment has given her opportunities to see hundreds of clients while learning to understand all of the complexities of various skin types and conditions and learning how to establish a personal relationship with each of her clients. Since transitioning into a medical environment at Horizon Dermatology & Laser Institute, she has broadened her skill set to include face mapping, microdermabrasion, and high frequency and different chemical peels for treatment option for severe skin imbalances.
Natalie has a gift and a passion for recognizing underlying causes of skin conditions, which allows her to advise clients on both internal and external techniques to manage healthy skin. She enjoys learning about the latest and innovative technologies and products for treating diverse skin disorders and conditions.